NVSPharmacy.co.uk is owned by NVS Ltd & Operates from the registered pharmacy premises - 46 Baker Street, London, W1U7BR
We're a GPhC registered pharmacy (1041275), this means all our working practices and products meet the standards of the General Pharmaceutical Council and are routinely monitored. Check this out.
Our Registered Pharmacy Premises Address - 46 Baker Street, London, W1U7BR
Superintendent Pharmacist: Ketan N Shah MRPharmS GPhC Reg No:2032275. What's this?
---
GPhC
The GPhC (General Pharmaceutical Council) operates a voluntary internet pharmacy logo scheme to provide reassurance to patients and the public that they are purchasing medicines online from registered pharmacies who have to meet GPhC standards.
Anybody buying medicines from any online pharmacy should check if the pharmacy is legitimately registered.
Click on the logo to view the registration.

Contact: GPhC
25 Canada Square, London, E14 5LQ
Telephone: 0203 713 8000
Website: https://www.pharmacyregulation.org/contact-us
---
MHRA
The establishment of a new logo for online retailers of medicines was introduced by the EU Directive on falsified medicines, to help patients identify trustworthy websites. NVS Pharmacy is pleased to announce that they have been registered to use this logo. Patients are advised to check for the presence of, and click on this logo, to check that the website is legally retailing medicines online.
When clicking on the logo, patients will be taken to the MHRA website that lists all legally operating online retailers in the UK. This system is currently being implemented across all EU Member States.
If a retailer is not listed or displaying the logo, patients should not buy from that website. Fake medicines are widely available online, that pass themselves off as real, authorised medicines.
This Directive aims to prevent falsified medicines from entering the legal supply chain and reaching patients, by strengthening existing controls and introducing new measures. The implementation of the logo for online retailers and the establishment of registers of legitimate online retailers is a new milestone in the implementation of the Directive.
Click on the logo below to view the registration.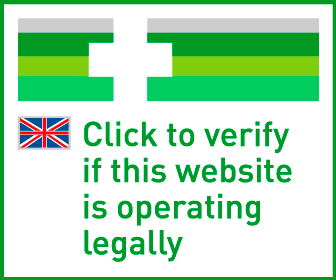 Contact: MHRA
151 Buckingham Palace Road, London SW1W 9SZ
Email: info@mhra.gsi.gov.uk
Telephone: 020 3080 6000
Fax: 020 3118 9803
Website: http://medicine-seller-register.mhra.gov.uk
---
Complaints
If you have any problems with the website please ensure you tell us so we can put it right.
This can be done be contacting us via the Contact Us Page OR Click Here